As a Member in The American Legion you will be eligible for special benefits that not only provide protection for your family, but substantial money-saving discounts.
Magazine Subscription
Member Discounts
It's a benefit package your entire family can enjoy!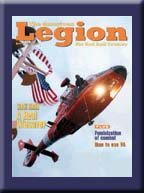 The American Legion Magazine, a
recognized leader among national
general-interest publications, is published
monthly by The American Legion for its
2.9 million members. Members
automatically receive a year's subscription
with the payment of one year's dues.
Back to Top
---
Services
The following is a list of organizations that recognize and provide special services to American Legion Members.
Moving Services
North American Van Lines
American Red Ball
Atlas Van Lines
Travel Services
Days Inn
Howard Johnson
Ramada Inn
Travelodge
Choice Hotels International
Wingate Inn
Knights Inn
Avis
National Car Rental
Financial Services
MBNA America Bank
The American Legion Annuity
Health Services
RxAmerica Discount Drugs
Eye Care Plan of America
Insurance Services
Union Fidelity
Hartford Life
TriCare/Champus Supplement
Internet and Computer Services
iBelong Internet Service Provider
Gateway Computers
Employment Services
Hire Quality
Back to Top
---
For more information see the American Legion National Website
---
Membership Eligibility Information
How to Apply for Membership
For more information, contact:
The American Legion
Post 176 Membership
(360) 573-2331